Dear readers and researchers, you can download year 2022 by clicking this link
RSD JOURNAL INFORMATION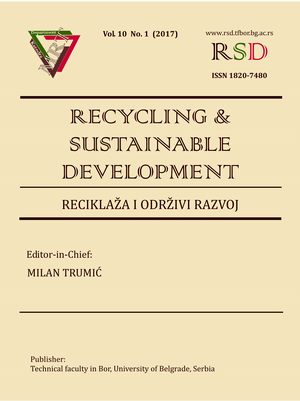 Print Issue     ISSN 1820-7480
Online Issue  ISSN 2560-3132
Recycling and Sustainable Development Journal:
• Publish original research articles and review articles
• Uses the Plagiarism Checker X Pro software to detect instances of overlapping and similar text in submitted manuscripts.
• Uses single blind reviewing
• Issued one time a year,
• Indexed and abstracted in Chemical Abstracts and SCIndeks, DOAJ
• Digitally archived at the National Library of Serbia and in the Repository of SCIndeks – The Serbian Citation Index as the primary full text database.
• IF (2018) by CEON WOS IF2 (0.100) and CEON WOS IF5 (0.16)
Editor-In-Chief
Prof. Dr Milan Trumic,
University in Belgrade, Technical faculty in Bor,
Department of Mineral and Recycling Technologies,
Vojske Jugoslavije 12, 19210 Bor, Serbia
Phone/Fax: +38130421749
e-mail: mtrumic@tfbor.bg.ac.rs
© All rights reserved by the Technical Faculty in Bor
AIMS AND SCOPE
The RECYCLING AND SUSTAINABLE DEVELOPMENT (RSD) Journal publish original research articles and review articles. Manuscripts must contain only original work which has not been previously published or be under consideration for publication elsewhere. In case a manuscript has been already presented at a conference, it should be extended by at least 30% new technical contributions, before submission.
The following list of topics is not intended to be comprehensive, but rather to indicate typical subjects which fall within the scope of the journal's interests:
• Generation and characterization;
• Recycling and reuse;
• Treatment (mechanical, biological, chemical, thermal, other)
• Landfill disposal (including design, monitoring, remediation of old sites)
• Environmental engineering;
• Material flow analysis,
• Waste and resource management and related areas.
RECYCLING AND SUSTAINABLE DEVELOPMENT Journal is an Open Access journal.
The Technical Faculty in Bor, University of Belgrade started publishing a journal of a national importance under the title "RECYCLING AND SUSTAINABLE DEVELOPMENT" during 2008.
Contributions to journal may be submitted in English only (From 2008 to 2016, the Journal has reviewed articles for publication in Serbian and English language. Since 2017, Journal will consider articles for publication only in the English language).
The Journal policy can be downloaded here.